In my early twenties I used to be scared of the d…. was admittedly very shy when it came to expressing my sexual needs and wants to my partners. I was overly concerned about potentially being labeled a slut or a hoe. But now, I understand that these terms are used to shame sexually liberated women, and I'm happy to say I am no longer afraid of being myself in the bedroom.
This newfound freedom arrived after I became a mother. I spend the majority of my time catering to the needs of my daughter—and chile, I realized Muva craves someone to take care of my needs.
Even if you're childless, I'm sure you've become used to nurturing others. Women have been conditioned in many ways to focus on everyone but themselves. We're more likely to be employed in the service/helping/care sectors and have essentially been trained by corporate America, our families, and society at large to put our needs last, especially when it comes to sex and pleasure.
But here's the deal: We are not only here to make babies and be a tool for someone else's satisfaction. We are not meant to only engage in sex to please our partners. Friends, it's a new era, and it's time to put that WAP on a platter and serve it up!
I know what you're thinking. "I got so much going on! I'm not who I used to be. How do I get my groove back?"
I got you, boo! Here are some of the steps I've taken to explore my sexuality after becoming a mommy:
Looking in the mirror while naked every day. I had to get used to my new mommy body. I used to be a size 5 with B cup boobs…on a good day. Now, I'm a size 9/11 with D cup boobs. I love my new curves, but it took a long time to for me to get used to things. Looking at my naked body in the mirror and playing around with different poses and angles is what helped boost my confidence. I finally started to feel beautiful again after a few months of this practice.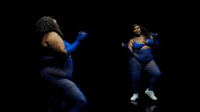 Uncover those sexual blockages and aim to work through them. As stated previously, I never wanted to be known as a hoe. I suppressed my sexual appetite and didn't try all of the freaky things I wanted to do out of fear. If you have issues that are holding you back from waving your freak flag high, then seeking out a sex therapist can be helpful. Especially if those blockages are caused by certain traumas. You have the power to take control!
Touch yourself. How are you gonna tell someone else how to please you…if you don't please yourself. Masturbation is key! Grab your favorite sex toy or just simply use your hands. Light a candle to set the scene and get it poppin baby! Learning what turns you on is liberating. Happy cumming!
Start consuming sexual content. I love a good Zane book and listening to sex-related podcasts such as Whorible Decisions or Cocktales. During my sexual hiatus, I've consumed a lot of porn! These outlets normalize kinky black girls and have given me ideas on new things to try out in the bedroom. Sex-positive spaces have the tendency to be white, and I love it when I see other black people providing relatable sexual content.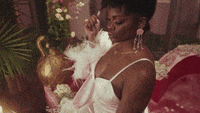 Learn to relax and receive. The key to enjoying yourself in the bedroom is relaxation. You cannot become stimulated if your mind is cluttered. Take a few deep breaths, soak in the bathtub, or have a drink to unwind. Also: don't do all of the work! Let your partner know that you need to get yours too! Give yourself permission to lay back and allow yourself to be catered to. You deserve this boo!
Are you a muva? How did you get your sexy back after the baby? If you are not a mommy, but you live a very busy life — how do you make time for pleasure? I wanna hear from all of the certified freaks in the comments!